For other uses see Sounds of Gamindustri.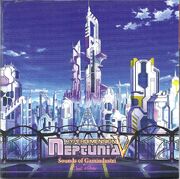 Sounds of Gamindustri is the Original Soundtrack CD for Hyperdimension Neptunia Victory and contains a total of 24 tracks.
Tracklist Order
Edit
Between Earth and Sky
Acrylic Wall
Yellow Heart's Theme
Lowee's Theme [Ver.V]
Peashy's Theme
Uni's Theme
Elegy
Lastation's Theme [Ver.V]
Noire's Theme
World of Imagination
Nepgear's Theme
Atranger's Theme
Recalled Manager, Pt. 1
Recalled Manager, Pt. 2
La Dele Dele
Vert's Theme
The Rock Garden
4th Dimension
Blanc's Theme
Medusa
Nepstation's Theme
Invader 1960
Halt
Ad blocker interference detected!
Wikia is a free-to-use site that makes money from advertising. We have a modified experience for viewers using ad blockers

Wikia is not accessible if you've made further modifications. Remove the custom ad blocker rule(s) and the page will load as expected.