This page lists Vert's weapons in Hyperdimension Neptunia Victory.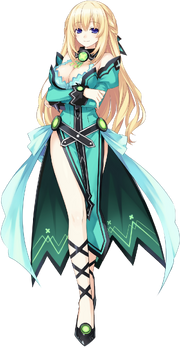 Iron Lance
General Information
User(s):
Vert
PP:
None
Base Stats
0
0
306
0
240
0
0
-31
0
0
Elemental Affinities
0%
0%
0%
0%
Value
Shop Cost:
None
PSN Store Cost:
None
Sellback Value:
None
Attack Type
Range:
Narrow
1st Attack:
Attack
Description
This spear is made of dependable iron. It's weight is greater than similar polearms, which makes it quite powerful in the right hands.
Obtain
Initial weapon
Dungeon Treasure
None
Hidden Treasure
None
Monster Drop
None
Materials to Develop
None
Ad blocker interference detected!
Wikia is a free-to-use site that makes money from advertising. We have a modified experience for viewers using ad blockers

Wikia is not accessible if you've made further modifications. Remove the custom ad blocker rule(s) and the page will load as expected.