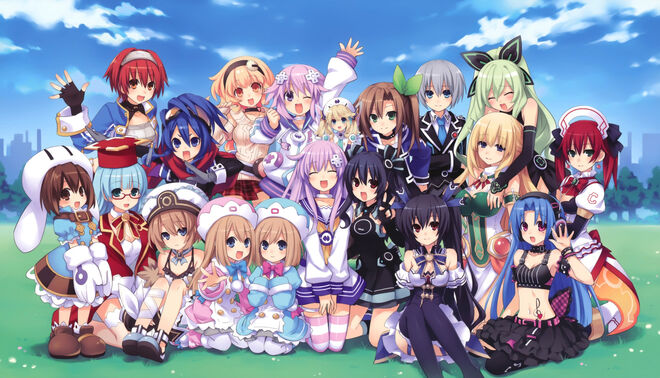 Your source for anything related to the
Hyperdimension Neptunia
series.
506 articles since February 2011.
This wiki is still growing and under intense construction. Anyone can edit and help contribute.
Note that this wiki contains
spoilers
, so read at your own risk!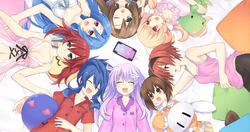 Hyperdimension Neptunia mk2
features a total of 3 endings, the Normal Ending, the True Ending, and the Conquest Ending. The Normal Ending may have an event extension depending on the player's actions. A total of 5 extensions can be seen through the normal ending if certain requirements are met. All endings and extensions result in a
trophy
. Endings are determined by two variables:
Shares
and
Lily Ranks
.

Who is your favorite CPU Candidate??


September 2, 2015 - Megadimension Neptunia VII Announced for western release
March 15, 2015 - Hyperdimension Neptunia VS Sega Hard Girls Announced for PSVITA
August 27, 2014 - Hyperdimension Neptunia RE;BIRTH 1 is released in Europe!
August 26, 2014 - Hyperdimension Neptunia RE;BIRTH 1 is released in North America!

...that Uni had a CG picture with 6 fingers?
...that Gust is not originally from Gamindustri?

Create blog post
https://images4.alphacoders.com/796/796691.png

Who is the character in this picture? It seems to be someone from Planeptune because of the purple color scheme and the D-pad symbol, but doesn't quite resemble Neptune or Nepgear. The striped socks are …

Read more >

Okay, if you were all wondering, I always thought that there should be a game for Vert. I mean, she's the only Goddess without a game to herself. Honestly, I never understood why. Hopefully she'll get her game and I'll be happy.... But we'll all wai…

Read more >
See more >
Other sites you may like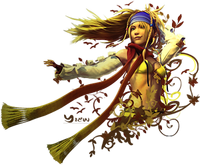 JRPG Games
Go to these sites for info or for help with your own wiki!
7th Dragon III Code:VFD • Aselia • Atelier • Battle Chasers: Nightwar • Breath of Fire • Chrono • Disgaea • Dragon Quest • EarthBound • Etrian Odyssey • Fairy Fencer F • Final Fantasy • Golden Sun • Grandia • Hyperdimension Neptunia • Kingdom Hearts • LOST SPHEAR • Mana / Seiken Densetsu • Megami Tensei • Parasite Eve • Phantasy Star • Pokémon • Riders of Icarus • SaGa • Star Ocean • Suikoden • Valkyria Chronicles • The World Ends With You • Xenoblade • Xenosaga • Yo-Kai Watch
Want your community included? See how!

Ad blocker interference detected!
Wikia is a free-to-use site that makes money from advertising. We have a modified experience for viewers using ad blockers

Wikia is not accessible if you've made further modifications. Remove the custom ad blocker rule(s) and the page will load as expected.