Hyperdimension Neptunia TF2
250px


Genre

Comedy, Action/Adventure, Fantasy, Sci-fi, Fan-made

Format

Animated Series

Directed

Infurno

Written

Infurno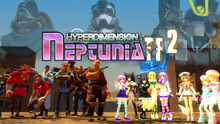 Hyperdimension Neptunia tf2 is a fan-made series of both the Hyperdimension Neptunia and Team Fortress 2. This story takes place where the Team Fortress 2 Class engineer opens a gateway from his world to another. When doing this he however opens the portal to their world. Why is he doing this? For many years both the red and blu teams of the game made peace to fight against a common enemy, The Azure Necros; hopefully with the divine cast of characters from the Hyperdimension Neptunia can fight off the army and bring peace to the humans.
Ad blocker interference detected!
Wikia is a free-to-use site that makes money from advertising. We have a modified experience for viewers using ad blockers

Wikia is not accessible if you've made further modifications. Remove the custom ad blocker rule(s) and the page will load as expected.