Heart Dimension Neptunia H (心次元, Kokoro Jigen?) is one of the 3 dimensions from Megadimension Neptunia VII
It will focus on an adventure inside the goddesses heart, we might see an unknown side of the goddesses.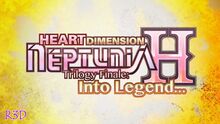 Appearance
Edit
Ad blocker interference detected!
Wikia is a free-to-use site that makes money from advertising. We have a modified experience for viewers using ad blockers

Wikia is not accessible if you've made further modifications. Remove the custom ad blocker rule(s) and the page will load as expected.