Bouquet

Bouquet
Vital statistics
Gender
Female
Race
Guardian Spirit
Weapon
Game(s)
Cyberdimension Neptunia: 4 Goddesses Online
Voice Actor
Aya Uchida (Japanese)
Bouquet is an NPC of 4 Goddesses Online and is equipped with artificial intelligence for conversation. She is a guardian spirit who protects the order of Alsgard. She will give adventurers advice in various locations. She fell in love with Vert at first sight, who also wanted a younger sister, and thus, has been locked-on as a younger sister candidate.
Appearance
Edit
Bouquet seems to be a young fairy girl with wide turquoise eyes and white feathers where her ears should be. Her long, pale blonde hair is straightened with even length bangs and forelocks, worn with a white headband made of roses. She has pale blue fairy wings.
She wears a simple white dress with several white roses sewn to it, including a single, pale pink rose to match the second layer of her flower shaped skirt. She wears matching opera gloves and a lace collar with a tiny bow attached, and wears stockings.
Personality
Edit
Bouquet is diligent and hard-working, and when a word she doesn't know comes up, she immediately looks it up.
She falls in love with Vert right away.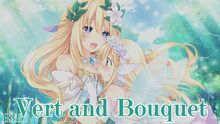 She is likely based off of Yui from Sword Art Online.
Ad blocker interference detected!
Wikia is a free-to-use site that makes money from advertising. We have a modified experience for viewers using ad blockers

Wikia is not accessible if you've made further modifications. Remove the custom ad blocker rule(s) and the page will load as expected.